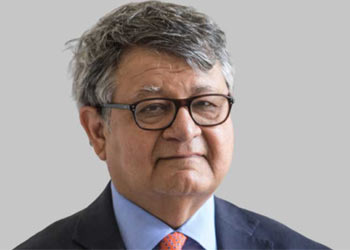 Shri Suman Bery
Vice Chairperson, NITI Aayog
Shri Suman Bery is currently Vice Chairperson, NITI Aayog, in the rank and status of a Cabinet Minister. An experienced policy economist and research administrator, Mr Bery took over as NITI Aayog Vice Chairperson from 1 May 2022. At the time of his appointment, Mr Bery was a Senior Visiting Fellow at the Centre for Policy Research, New Delhi; a Global Fellow in the Asia Programme of the Woodrow Wilson International Centre for Scholars in Washington D.C.; and a non-resident fellow at Bruegel, an economic policy research institution in Brussels. He was also a member of the Board of the Shakti Sustainable Energy Foundation, New Delhi.
From early 2012 till mid-2016, Mr Bery was Royal Dutch Shell's global Chief Economist based in The Hague. In this capacity, he advised the board and management on global economic and political developments. He was also part of the senior leadership of Shell's global scenarios group. During his time at Shell, he led a collaborative project with Indian think tanks (later published) to apply scenario modeling to India's energy sector
Before his appointment at Shell, Mr Bery served as Director-General (Chief Executive) of the National Council of Applied Economic Research (NCAER) in New Delhi-one of India's most respected institutions of empirical socioeconomic research. During his tenure, NCAER greatly extended its global links and was recognized as one of India's leading think tanks by the independent global Think Tank Initiative. In his decade leading NCAER, Mr Bery was at various times member of the Prime Minister's Economic Advisory Council; of India's Statistical Commission; and of the Reserve Bank of India's Technical Advisory Committee on Monetary Policy. He commented extensively in the media on economic issues, and contributed a monthly column to an Indian business newspaper.
Prior to NCAER, Mr Bery was with the World Bank in Washington D.C., which he joined through the Young Professional Programme. His career at the World Bank spanned research on financial sector development and country policy and strategy, notably in Latin America and the Caribbean. His country experience included Argentina, Brazil, Chile, Ecuador, Paraguay and Peru. His experience on financial sector reform in Latin America led to an appointment as Special Consultant to the Governor of the Reserve Bank of India between 1992 and 1994.
His professional writing includes contributions on the political economy of reform, financial sector and banking reform, and energy trends and policy. He has a master's degree in public affairs from Princeton University's School of Public and International Affairs, and an undergraduate degree in philosophy, politics and economics from Magdalen College, University of Oxford.
Contact Detail
23096677/ 23096688, 23096699 (Fax)
Team Member Email
vch-niti@gov.in
Designation
Vice Chairman